EMPLOYMENT
Phoenix Flower Shops employees work as a team. As an industry leader we believe in the Phoenix Flower Shops way of look, style and feel in everything we do, from a professional attitude to a genuine smile that reflects a positive attitude which leads to a great working environment.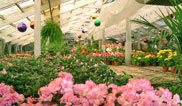 Phoenix Flower Shops employs approximately 150 people in its corporate offices, floral order center, wholesale division, delivery staff, and retail stores. During peak holiday periods, our staff often grows to well over 200 employees plus another 100 or more contracted delivery drivers.
We tolerate nothing less than the best in every position. We believe that a chain is only as strong as its weakest link. Phoenix Flower Shops is a forward moving and thinking company. The days are not boring and the ideas and energy are always plentiful and exciting. The saying "Never Say No to the Customers" is the greatest challenge in business. It really happens here. We are always looking for the best people for our company.
Our employment needs vary greatly by location and season. We often have positions available in many areas (download application). Positions available could include management, floral design, sales, and delivery. You can hear a list of our current available positions on our JOB HOTLINE by calling 480-941-9575.
Thinking about moving to Phoenix, Scottsdale or any of the many surrounding cities in the "Valley of the Sun"? Contact us online or call our Human Resources Department at (888) 617-3247 to discuss all possibilities. Phoenix Flower Shops is proud to be a drug-free workplace.