GRANDPARENTS DAY HISTORY...
National Grandparents Day is celebrated every year on the first Sunday after Labor Day. This year, the holiday will be celebrated on Sunday September 12th.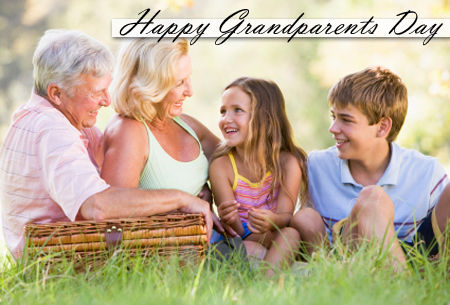 The founder of Grandparents Day was a West Virginia housewife named Marian McQuade. In 1970, she began her campaign to establish a holiday to honor Grandparents. Two of the main purposes of the holiday are to honor grandparents and to help children become aware of the strength, information, and guidance that older people can offer.

Her idea soon attracted the support of businesses, churches, civic groups, and political leaders. In 1973, West Virginia Governor Arch Moore established a statewide holiday for grandparents. In 1978, President Jimmy Carter signed a proclamation creating National Grandparents Day . Part of that proclamation reads...
As we seek to strengthen the enduring values of the family, it is appropriate that we honor our grandparents. Grandparents are our continuing tie to the near-past, to the events and beliefs and experiences that so strongly affect our lives and the world around us. Whether they are our own or surrogate grandparents who fill some of the gaps in our mobile society, our senior generation also provides our society a link to our national heritage and traditions.

September was chosen to celebrate the holiday to signify the autumn years of life. The official flower of Grandparents Day is the Forget Me Not and the official song of the holiday is "A Song for Grandma and Grandpa" by Johnny Prill. It is interesting to note that while Mother's Day and Father's Day have apostrophes, officially Grandparents Day does not.

Grandparents Day is also celebrated in Canada on the second Sunday of each September as a day to acknowledge the importance of grandparents to the structure of a family.
Marian McQuade died at the age of 91 on September 26, 2008. She was the mother of 15 children and had 43 grandchildren and 15 grea t-grandchildren.

Be sure to celebrate National Grandparents Day with all the older people in your life. Let them know they are in your thoughts with a gift of fresh flowers, plants, cookies, cheesecake, brownies, or one of the other great gifts available online at www.phoenixflowershops.com